"Peter Obi Is A Saboteur He Betrayed My Father And Ndi-Igbo" – Hon Chukwuemeka Ojukwu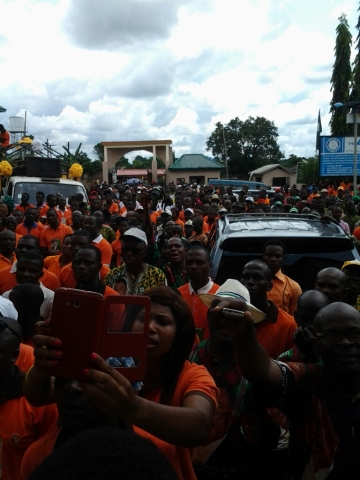 Members of the All Progressives Grand Alliance (APGA) comprising of mostly   detachment of youths from the twenty-one Local Government Areas of Anambra State today converged at the headquarters of Nnewi North LGA to prevail on the sole Administrator Hon Chukwuemeka Ojukwu Jnr to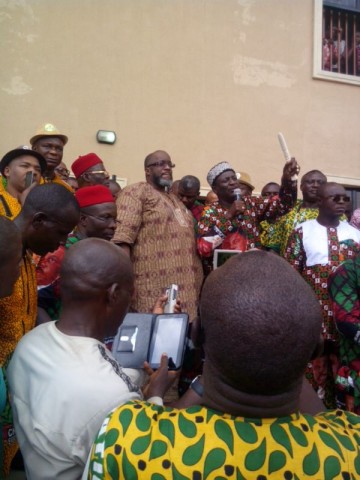 take them to the Mausoleum of the Late Dim Chukwuemeka Odimegwu Ojukwu where they conveyed their angst and disappointment over the defection of the former governor of the State Chief Peter Obi to the People's Democratic Party.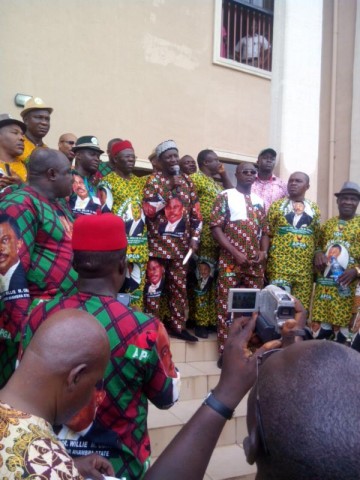 The APGA faithful who numbered over 2000 taunted the former governor in between chants of the party slogan calling him names like betrayer and a cheat.
The youths were met at Nnewi by the party executives in the state led by Akunwata Mike Kwentoh who told them that they have a right to express their feelings in orderly fashion in line with the APGA spirit ofOnye aghana nwaneya,and assured that the party is strong and determined like never before to sustain the legacy of the late leader.
Addressing the youths, the son of the Late APGA leader Chukwuemeka Ojukwu Jnr welcomed and thanked them for remembering his late father by coming to lay their complaints and formal protest about the recant of the former governor Peter Obi at his grave side. Inviting the youths to follow him to late Dim's mausoleum he noted "in Igbo land the dead lives on how much more the great Ikemba."
Speaking further at the Ojukwu Mausoleum,  Chukwuemeka Ojukwu Jnr  said " I thank you for remembering my late father whose ideals in defense of the Igbo race, APGA and the common good is not questionable. But I am particularly sad that those he mentored and set on the part to hold the light have suddenly abandoned the course."
Mr. Peter Obi a saboteur he has betrayed both my father and Ndi-Igbo. Stressing that Obi should be stripped of the Okwute Ndi-Igbo title because according to him he no longer deserves it.
Reacting to the speech, the youths entreated the spirit of the Late Ikemba Nnewi to avenge the betrayal by Peter Obi and also guide Governor Willie Obiano to lead the APGA to greater heights.
Also speaking the Anambra State Chairman of APGA, Akunwata Kwentoh extolled the qualities of the late APGA leader called him Ogbunigwe whilst urging him to ensure that APGA goes from strength to strength. He said that Governor Obiano will lead the state till 2022.
On his part, APGA youth leader, Hon. Tony Uche recalled how the former governor Obi was brought to the Eze-Igbo, for the first time, by the APGA National Chairman Chief Victor Umeh prior the election of 2003. Noting that the then Peter Obi was nurtured to get attributes that would enable him lead the state only to abandon the ship in spite  of all promises he made to the late Dim Ojukwu and Igbos. In the same, chairman of the United Anambra Youth Assembly condemned Mr Peter Obi for betraying Ndigbo.